Find everything you need to prepare for a charter in Agana. From important base information to required documents for international travel, you can use this information as your guide. The base also has an online eGuide, so feel free to look it up for more local information here and take it with you to your Agana sailing holiday.
Plan
Before you go
COVID-19 Travel Guidelines
To facilitate your entry into Croatia, please complete this online form in advance of your arrival. Save valuable vacation time and create less physical contact at our base by prepaying your mandatory Croatian tourist tax. To make this process easier than ever, you can now make your payment through our safe and secure online payment portal.
Please be aware that additional entry requirements and restrictions may still apply for this destination. 
There are currently no travel restrictions for EU citizens; however, citizens from outside the EU must provide proof of the following:
Your booking confirmation – proof of booked accommodation
All guests must present a negative COVID-19 RT-PCR Negative (Swab) Test, not older than 48 hours (starting from the time of taking the swab until arrival at the border crossing), OR with the obligation to self-quarantine for 14 days if guests do not have a negative PCR test.
COVID-19 Testing Sites
The testing facility is located at the Public Health Institute (Vukovarska 48, Split). Signing up before testing is mandatory and you can do it by sending an email to 
[email protected]
with the following information: The name and the surname, date and year of birth, returning email address, and the contact cell phone number. You will receive a reply email that contains the date and the time for your testing appointment. The testing price is 698,00 KN (for results in English, there is an additional cost of 125.00 KN).
Address
Sunsail Agana
Marina Agana
Marina Dr. Franje Tudmana 5
21222 Marina, Croatia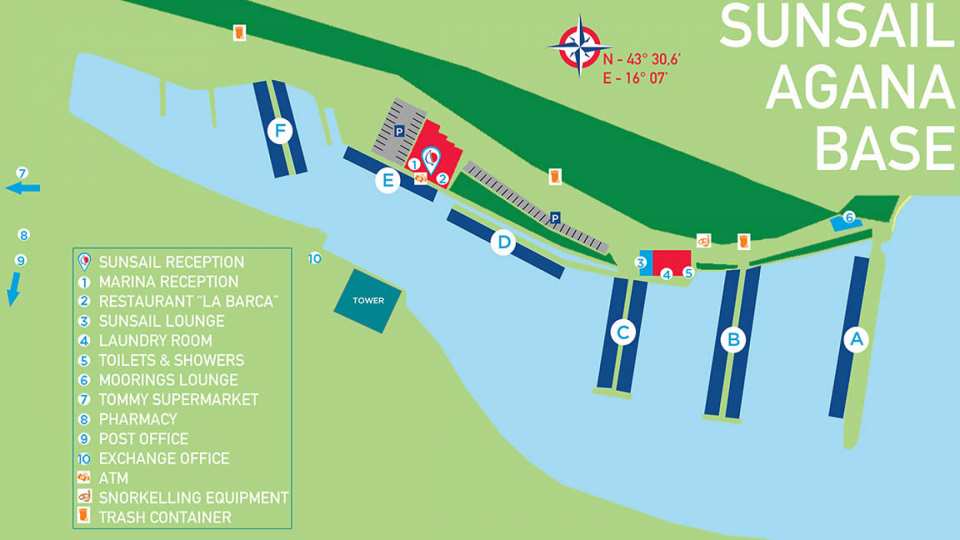 Base hours
The base is open Sunday to Thursday from 8:30 a.m. to 4:30 p.m., Friday and Saturday from 8:30 a.m. to 7 p.m. 8:30am to 7pm in high season. If you are arriving outside working hours, there will be a letter with your name on the reception doors explaining further details and pointing you to your yacht. 
Season: This destination is closed from mid-November to end of March.
Time zone
UTC/GMT +1 hours
What to bring
Customs + immigration
Entry, exit, and visa requirements depend on the locations you are departing from and traveling to. You are responsible for having the correct documents so make sure to check with the consulate of the countries you plan to visit before you travel. Visit smartraveller.gov.au for the latest information.
Sailing licences
This destination has mandatory sailing requirements. Please visit here to learn more. 
The skipper and first mate will be required to fill in a sailing cv prior to arrival at the base to confirm that they have the necessary skills to sail in this region. Having the original skipper license while sailing is obligatory in Croatia so make sure you have it with you.
Luggage + packing list
Please pack using soft-sided bags, as these are easier to store on your yacht. The base has no facilities for holding luggage under lock. Pack lightly and review our suggested packing list below for required and necessary items to bring.
Pack essential prescription medicine and change of clothing in a carry-on bag*
Passport and other travel documentation
Tickets and paper confirmations for pre-planned activities
Light-coloured, light-weight clothing
Formal wear for upscale dining establishments
Swim wear and cover up
Hats and sunglasses
Sandals and flip-flops
Athletic shoes and hiking boots
Travel-sized toiletries and hygiene products
Bug spray and OTC pain relievers/ointments such as motion sickness relief
12V DC to 110V AC power inverter (for boats without generators**)
12V to USB power adapter for charging mobile devices
Aux cable for listening music on board from your device
*We would highly recommend packing prescription medicine and essential clothing (swimsuit, t-shirt and shorts) in your hand luggage as occasionally your luggage may arrive at the base after you do.
**All boats include a 12V DC outlet (a "car" outlet). Boats with generators have 110V outlets in the Caribbean and 220V in the Mediterranean and Exotic locations.
Drones
The use of flying drones may be restricted in some areas. For current drone regulations in this destination, please click here for more details.
Currency
Local currency – Kuna (HRK). You can exchange money at the departure airport, but the exchange rate is often better once you are in Croatia. Visa and Mastercard are accepted in larger restaurants, marinas, supermarkets and at the base, however, it is advisable to have cash as many places are still unable to accept credit card payments.
Please note: bases are unable to accept cash or personal checks, and cannot give cash back on credit or debit (Switch/Delta) cards.
This base cannot accept cash, American Express or Diners Club. Visa and Master Card are accepted.
Gratuity
Tipping in Croatia is expected at all service-providing venues, and considered polite. 10 % - 15% in restaurants and bars is considered polite, but mostly it is done based on customers satisfaction.
If you have Sunsail crew on board your boat, tipping is at your discretion, 15-20% of the crew fee is considered standard.
Security deposit
A security deposit must be paid at the base by Visa or Master Card and is refundable at the end of your charter subject to there being no loss or damage. To significantly decrease your security deposit, purchase our Yacht Damage Waiver insurance ahead of time.
What's on board
Coolers
All Sunsail Catamarans are equipped with cool boxes. Only one cooler available per boat.
Mobile phones
Check with your service provider for information about cell coverage in this region. Using your own GSM mobile phone in conjunction with a prepaid SIM card is also very popular and convenient. All Sunsail yachts have WiFi Internet options on board, so please ask at the reception for more details. 
Music + iPods
While most of our newer boats have Bluetooth capability, we cannot guarantee all boats are outfitted with this equipment. For your convenience, we highly recommend you bring an AUX cord so you can listen to music from your mobile devices.
Electricity
The standard voltage on all yachts is 12 volts, and 220V sockets are 2-pin European style. There are also plenty of USB sockets throughout the yachts' interior. The base also provides adapters , however it is also good to have your own if you need multiple. All our catamarans have a generator, so 220VAC is available while plugged into shore power, and while he generater is running. 
For more information on what's included on your yacht, please view the full list here.
Go
How to get there
Airport
Split Airport, also known as Resnik, is located on the Adriatic coast, four miles from Trogir to the west and Kastela to the east and 15.5 miles from Split to the southeast.
Split Airport facilities
Money exchange office, ATM, bank, post office, duty-free, coffee shop, snack bars, VIP lounge and business lounge. A taxi rank can be found by leaving the arrivals hall via the main exit. Save up to 30 percent when you book your airport parking and airport hotels through Sunsail. 
Flights
To ensure seamless travel to and from your destination or find out more about our tailor-made flight-inclusive or exclusive packages call us now on 020 3733 7454*.
Transfers
If your holiday is flight exclusive, we request that you send us your travel arrangements prior to departure so that we can organise transfers in advance if required.  You can elect to pre-book your transfer and pay the driver directly, or organise your own taxi at the airport.
Approximate costs of transfers are listed below:
Split Airport – Agana Marina
1-3 persons; 58€
4-7 persons; 97€
8+ persons; 12€/person
Agana - Split Town
1-3 persons; 114€
4+ persons; 144€
8+ persons; 23€/person
Car rentals
There are a number of car hire companies operating in Croatia. There are a couple of major car rental compnies at the airport. Some agencies offer a delivery service to the marina for a small fee. Please enquire with reception for further information.
If you would like to hire a car, please make sure to bring all parts of a valid driving license.
Boarding time + checking out
Boarding time
6:00 PM
Chart briefing in high season are held at: Saturdays at 11:00, 13:00, 15:00 and 17:00 local time.  Boat briefing will take part with your technician once you board. Please take your time to read through the brief list provided on check-in to meet him ready.
You are free to sail out as soon as you are ready, just be careful not to sail in the night. Feel free to ask one of the staff for a good mooring spot within your sailing reach before sunset. 
Late arrivals
If you arrive after our office closes, a letter will be left on the office door with your name, pointing out where your yacht is situated. Your yacht is ready and waiting for you with lights left on. 
Check out time
5:00 PM the night before disembarkation. Disembarkation is at 9:00 AM the following morning.
A debriefing and final walkthrough will be done upon return so please allow enough time to complete this before the charter end time.
Sail
About the marina
Marina facilities
Water & electricity, 24 hour shower and toilet facilities, Sunsail WIFI on all the docks, marina restaurant and bar, laundry service, garbage disposal, car parking spaces and an ATM. Laundy room (Mon - Sat 07:30 -19:30, Sun 07:30 - 13:30 - Pay at main reception) ATM - Next to Sunsail reception.
The village of Marina is only a short walk away and you will find; several restaurants and bars, two well stocked supermarkets, currency exchange office (in high season), pharmacy, post office and pebble beaches for swimming. Parking spaces are available at the marina. However, we cannot guarantee parking spaces and are not able to reserve them. The marina operates these spaces on a first come first served basis. We do not take responsibility for anything that happens to vehicles using the car parking spaces. The cost for parking is HRK 75 per day and HRK 350 per week. This is arranged and payable directly to the marina, not Sunsail.
There is an additional car park at the entrance to the marina, in the village.  There is no charge for these spaces, however they are outside of the secure marina. Fuel stations location: Seget Donji at Marina Baotić N 43* 31' / E 16* 14'
Sailing grounds
Experience level
Level 1
Experience levels are based on sailing conditions and the length of passages within your chosen sailing area. View here for more information.
Sailing area
To truly appreciate the central Dalmatian sailing ground, spend two weeks on a charter or flotilla sailing the waters both to the north and south of our Sunsail base. Sail north to enjoy the peace, beauty and crystal clear waters of the Kornati National park or venture up the Krka River to Skradin to see the spectacular waterfalls in the Krka National Park.
Down south, cruise around the islands making sure to stop on pine-clad Brac, taste local wines and enjoy the rich military history on Vis and drink cocktails and enjoy beautiful architecture in the old towns on sunny party island Hvar. Throughout this area you will enjoy beautiful clear turquoise water, old historic towns with spectacular venetian architecture and contrasting traditional fishing villages. You will always find great cuisine and locally produced wines, ham, cheese and olive oils.
Sailing area restrictions
All of our yachts are licensed for sailing in Croatia, Italy, Montenegro and Slovenia. If you are planning to leave Croatian waters please contact our reception at least one week in advance so that we can prepare cruising permits and the necessary documentation.
It is strictly forbidden to sail alone, we require two persons minimum on board.
Night sailing
There is no law in Croatia that forbids night sailing, however, we advise strongly against it due to insurance. The base doesn't give out permissions for night sailing. 
Charts + pilot books
All the charts and pilot books you will need for the sailing area are to be found onboard, including small and big scale charts, pilot book and chart book, all issued by Croatian government and up-to-date. 
Sailing permits + taxes
Croatian tourism tax will be collected upon arrival at the base. The cost is 10 HRK per person/per day and must be paid for the duration of your charter. There's no charge for children under 12. Visiting the National and Nature parks in Croatia (Kornati, Krka, Mljet and Lastovo )requires purchasing entry tickets for yourself and your vessel. Each park has different rules and prices, the details can be found on their webpages. Feel free to get in touch with the base for more information. 
It is essential that we have all of the following details in advance for every member of your crew so that your boat papers can be prepared:
Full name
Date and place of birth
Nationality
Passport number/ID card number
It is imperative that you bring these details and original sailing license with you as the Croatian Authorities do regular checks on the water. You will not be able to sail without these papers, and failure to supply information in advance could delay your departure from the base. The list can be viewed online here.
The Croatian Authorities website has full details of acceptable skippers licenses.
Moorings fees + taxes
Mooring fees are payable at all ports in Croatia. Prices vary depending on the size of your yacht and the type of mooring. Approximate mooring fees are detailed below:
Anchorage
HRK 0–150
Port Authority Mooring Buoy
HRK 150–280
Restaurant Mooring Buoy/Jetty
Usually free if you eat at restaurant
Town Quay
HRK 240–550
Marina
HRK 500–700
*Please note all prices are based on a 39-foot monohull and are given in Croatian Kuna (HRK).
Health + safety
Travel advice
Croatia is generally risk-free of contagious disease. Current travel, health, and safety information can be obtained by visiting smartraveller.gov.au.
Travel insurance
Sunsail offers comprehensive travel insurance for your complete peace of mind. If you have your own travel insurance, please make sure that it covers all of the destinations and activities of your Sunsail holiday. Visit here for more details.
*Please note country entry/exit and vaccination/immunisation requirements can and do change. Sunsail is not accountable for these requirement changes and we advise visiting the destination's authority website to receive the latest updates.
Safety
All yachts are equipped with adult life jackets and harnesses, we leave it up to you to decide when personal safety equipment should be worn.
Your health and safety come first. Please review our travel aware information before beginning your holiday.
Eat
Provisioning
Sunsail Provisioning
This destination offers online provisioning. All provisioning orders should be placed no later than 7 days prior to the charter start date. Visit store.sunsail.com to order.
For more information, visit here for our different provisioning options.
Supermarkets
There are two large supermarkets in the village for provisioning your boat. You can also easily find supermarkets and minimarkets at most ports and harbours.
Dining
There are a wide range of restaurants in Croatia; from local Konobas which serve traditional Dalmatian cuisine to more high-end modern Dalmatian restaurants. Menus are generally varied due to influences from surrounding countries and choices range from; fresh and locally caught fish and seafood to Italian style Pizza and Pasta dishes.
Kod Duje 00 385 21 889 563
Konoba Marina 00 385 91 5142 749
Konoba Hila 00 385 91 7820 076
Sky rooftop bar & restaurant 00 385 97 7440 500
Shop
Around the base
Accommodations
SKY beach hotel (just 3 minutes by car from Agana base)
sky-beach.com 00 385 97 74 40 500 [email protected]
Hotel Pašike in Trogir
hotelpasike.com 00 385 21 885 185 [email protected]
Hotel Ola in Trogir (adults only)
hotelola.hr 00 385 21 798 600 [email protected]
Radisson Blu in Split
radissonblu.com 00 385 21 303 030 [email protected]
Cornaro Hotel in Split
cornarohotel.com 00 385 21 644 200 [email protected]
Perla Resort in Rogoznica
perla-resort.com 00 385 99 293 8743 [email protected]
Hotel Zora in Primošten
hotelzora-adriatiq.com 00 385 (0)22 581 111 [email protected]
Banks
Open Monday to Friday from 7 a.m. to 8 p.m. and 8 a.m. to 12 p.m. Saturday. Sundays banks are closed.
There are ATMs on most of the islands. Traveller's cheques are not readily accepted.
Cash can be exchanged at banks, post offices, exchange offices, travel agencies, marina offices and hotels.
There are many small exchange offices in town offering a better exchange rate than the bank. They are open from 8 a.m. to 8 p.m.
Post office
The post office is situated in the centre of the town. Open Mondays 8am to 5pm, Tuesday - Friday 8am - 2.30pm, Closed on the weekend.
Shopping
Supermarkets are open from about 7:00 a.m. to 8 p.m. every day, although in smaller towns many will close for siesta from 12 p.m. to 5 p.m. and will be closed on a Sunday.
Croatia offers many handcrafted souvenirs. You will commonly see Dalmatian wine, spirits, preserves, dried fruit, olive oil, lavender, filigree jewellery, coral and linens.
A VAT of 25 percent is added onto all non-essential products and services purchased in Croatia.
In the marina you can stock up at Tommy supermarket, where they will let you borrow their shopping cart and leave it in the base or at Studenac, which offers free delivery directly to your boat.
Play
Things to do
Tours
Wine Tasting Tours
Croatian Wine making goes back thousands of years. Ask in restaurants about local wines and wine tasting as production is usually done locally on a small scale. Try:
Tomic winery, Jelsa on Hvar island
bastijana.hr
Bibich Vineyard, Plastovo near Skradin
bibich.co
Lipanovic Winery, Vis town on Vis island 00 385 91 547 2766
Agrotourism Kaštelanac, Šolta island
agroturizamkastelanac.com
Zlatan otok Winery, on the southern side of
zlatanotok.hr
Hvar island in Sv.Nedjelja, ripening under the sea
Zipline
Possible in Omiš, Split and Šibenik

Water toys + sports
For your convenience, you can add water toys to your charter prior to arrival at the base. They will be waiting on your boat upon arrival. You are able to rent these at the base but please keep in mind that we have limited availability. For more information, please view our water sports options here.
Scuba diving
Croatia has some amazing dive spots, with possibilities to dive every day once on the water. The best way to discover the underwater part of Croatia is to get in touch with a diving centre. The closest to base is Pongo Diving in Primošten town: Pongo.hr.
As regulations about diving in Croatia are very strict, a diving centre can give you the best information and provide you with diving gear or meet you for a rendezvous dive. You can also ask the base for more information.
Snorkelling
Sunsail provides snorkelling gear (flippers, masks & snorkels) for all charters for your pleasure. Children's sizes are very limited; you may wish to pack your own snorkelling gear. Before sailing out, please make sure that sizes on your yacht fit. If needed, you can exchange the gear from the box next to B dock, or ask the base staff for assistance. 
Fishing
A fishing license is required for all types of fishing, however, it is important to be aware of restrictions in national parks and some towns. The license can be purchased online, for one, three, or seven days. There are no rental facilities for fishing equipment.  
For more information on what's included on your yacht, please view the full list here.