Delve into the checkered history of rum in the BVI. Many of the area's harbours are named after the rum distilleries they once housed, and the local bars and restaurants serve their very own homemade rums.
Sail to Cane Garden Bay for a tour and tasting at the Callwood Rum Distillery, the oldest continuously operating rum distillery in the Caribbean. Snorkel off Monkey Point and head to Jost Van Dyke for a 'Friggin in de Riggin' cocktail from the famous Foxy's Beach Bar.
Please note: this flotilla is available for adults only.
Sailors must be 18 years old and up.
This flotilla departs on November 17, and December 8, 2017.
June 22, November 16, 2018
Stop off at the Caribbean's finest rum hotspots
Insight into the history and tradition of the rum industry
Visit the famous Foxy's beach bar on Jost Van Dyke
See the oldest continually operating rum distillery in the world
Monkey Point's dazzling coral reef
See another side of this cruising paradise
Speak with a Holiday Planner: 1800 803 988
Learn more about the Supplements
Sail with confidence as part of a group with a lead boat to help you get your bearings. If you can't sail or would rather have a designated sailor take the helm for you, you can hire a skipper for the duration of your holiday. Remember to drink and sail responsibly!
Your Lead Crew

The Lead Crew is there to support you. They'll help you cast off each day. They'll then be there to help you when you arrive, guiding you into your guaranteed mooring.
Your Lead Boat

Onboard your Lead Boat will be a Skipper, Host and a Technician. Your flotilla skipper is fully certified and is responsible for the flotilla. They also hold daily chart briefings to help you make the most of your trip.
Your Holiday

There's plenty of excitement to be had along the way too; the relaxed social scene includes Punch Parties, Beach BBQs and even an End of Week Regatta if you're feeling competitive! You can join in if and when you want to; it's your holiday so it can be whatever you want it to be.
*There will be an additional mandatory $300 Per Person "BVI Rum Flotilla Package." It is a "package" and the supplement is different.
BVI Rum Itinerary
Spend a week exploring the historic tradition of Caribbean rum
Check out the itinerary below. Itinerary is subject to change based on weather conditions as the flotilla will go where the wind takes you, literally.
Friday

— Wickham's Cay II, Tortola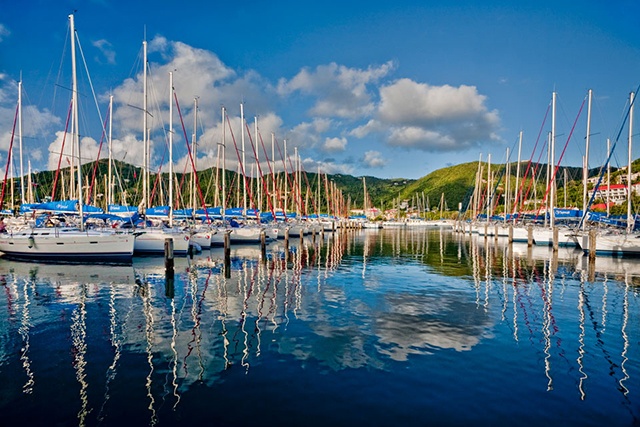 Your flotilla adventure begins at our base on Wickhams Cay II. This thriving marina town is the perfect place to provision your boat, get to know your new flotilla friends and meet the lead crew who will guide you through the highlights of the British Virgin Islands. Make the most of your time on shore before you set sail, stopping for island pastries and coffee in the marina café or heading further inland to explore Tortola's mountainous, forested interior.
Saturday

— Peter Island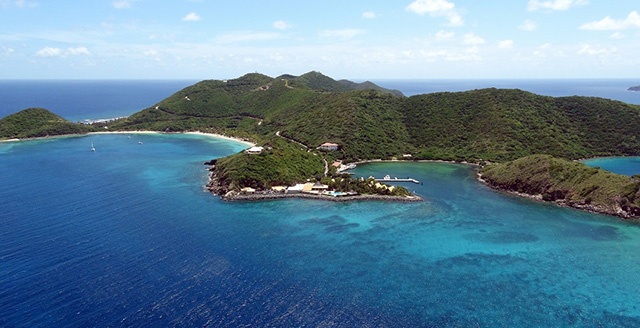 Awaken early for pre-departure preparations (provisions, water, fuel) and a briefing to familiarise yourself with your boat. Sail round the corner to the renowned Deadman's Bay and enjoy lunch aboard before setting off for your first stop: Great Harbour, Peter Island. Once you're settled, join us at Oceans 7 Beach Club for a Rum Punch Party featuring a West Indian Buffet, drinks, music and more.
Evening:
Welcome BBQ Pig Roast & Rum Party at Ocean's 7 Beach Bar 7:00 pm
Sunday

— Cooper Island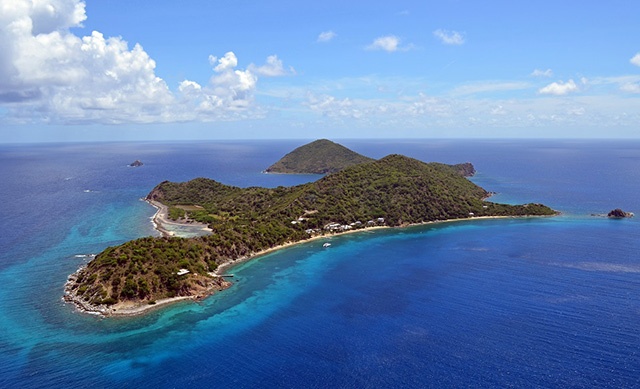 Shake off the travel cobwebs with a short morning sail east along the picturesque Dogs Islands, which will bring you to Cooper Island Beach Club for a lunchtime arrival. This is a very small mooring spot, so it is important to arrive early because there are no anchorages once the mooring buoys are gone! Spend the afternoon sampling local delights, with a 30-minute rum tasting, complete with souvenir shot glass. Kick back and enjoy a real taste of island life with your fellow rum and sailing enthusiasts.
Free Evening:
Dine aboard or ashore. If planning to dine ashore, you'll need to book your table in advance, as reservations stack up fast here.
Monday

— Bitter End Yacht Club, Virgin Gorda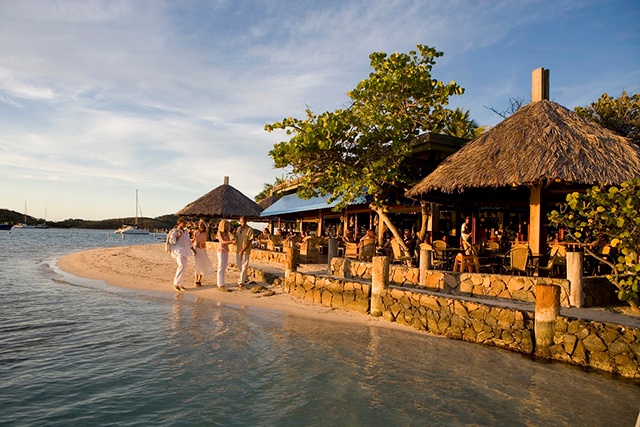 Sail towards the beautiful North Sound of Virgin Gorda for a day on Leverick Bay and its neighbouring beach resort with a bar, restaurant, Pusser's Rum shop and more. We'll drop anchor for an early stop off at The Baths, a beachside formation of giant volcanic boulders that form secret pools, grottos and pathways on the south side of the island. Enjoy a picnic afloat as we sail onwards towards the famous Bitter End Yacht Club. We'll hold a short briefing at 5:30 p.m., before the Welcome Rum Party at the Clubhouse Beach Bar. A special three-course meal with rum pairing will follow from 7pm-9pm in the clubhouse.
Tuesday

— Marina Cay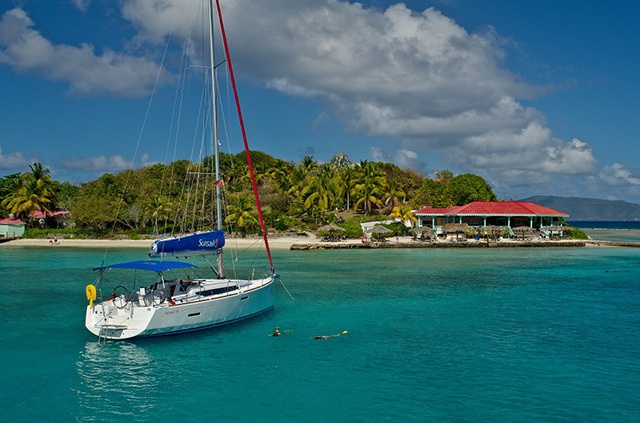 Rise early and take on the guided morning trail hike. Once underway, you can choose to sail for the Dogs, or head to Mountain Point. Enjoy lunch aboard before heading to your overnight stop at Marina Cay. We'll hold a short briefing at 5:30 p.m. at the Marina Cay Hilltop Bar, then have some rum-filled fun as we host a Pusser's Painkiller Party and an enlightening lesson on the history of rum in the BVI.
Evening:
Painkiller Sunset Happy Hour Party on Marina Cay Hilltop Home, with a "discussion" on the history of Pussers, Charles Tobias, & the BVI. Followed by dinner at Pusser's Restaurant.
Wednesday

— Cane Garden Bay, Tortola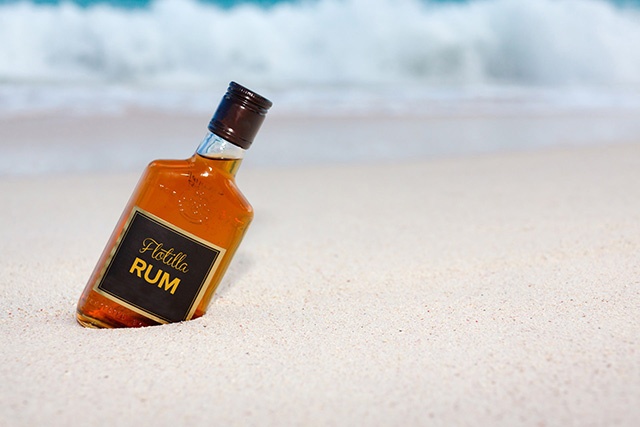 Travel to Monkey Point on Guana Island for a morning of snorkelling in this dazzling coral reef hotspot. After lunch, sail to Cane Garden Bay for a tour and tasting at the Callwood Rum Distillery, the oldest, continuously operating rum distillery in the Caribbean. Following the tour, we'll hold a short briefing at 5:30 p.m. at the nearby Elm Bar. Enjoy drinks and live music by the Elm-Tones, before dinner at a restaurant.
Afternoon:
Callwood Rum Distillery Visit. Explore the world's oldest continually operating rum distillery, and learn the fascinating history of the golden elixir beloved of sailors throughout the ages.
*Weather dependent; if inclement weather, the lead crew may switch days 6 and 7.
Thursday

— Great Harbour, JVD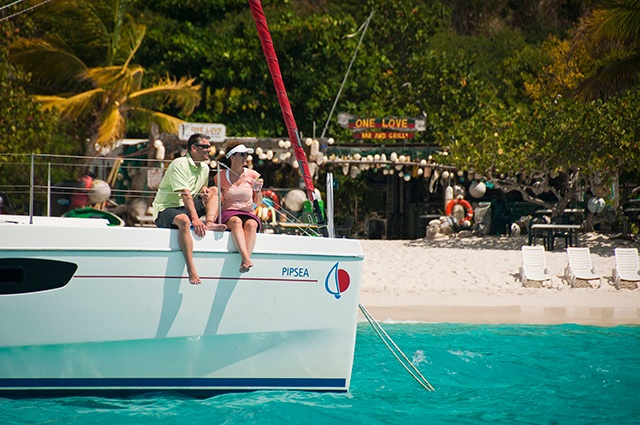 Free day. Sail over to the other Great Harbour on Jost Van Dyke. Enjoy a morning of beachfront fun made all the more rum-tastic by the world-famous beach bar, Foxy's, which sits right next door. Visit Salt Island, the RMS Rhone, the Indians, or the caves at Norman Island. Norman Island is said to be the inspiration for Robert Louis Stevenson's Treasure Island. Watch for turtles, nurse sharks, lionfish and even the occasional manatee cruising through the clear, shallow waters of this area. This being your last night aboard, you'll be free to overnight at Peter Island, Norman Island, or even the Sunsail Base.
Suggested lunch spots:
The Indians are a small archipelago of islets and one of the most popular dive spots in the BVI. Call here for lunch and dive or snorkel an underwater playground brimming with tropical fish species.
Friday

— Wickham's Cay II, Tortola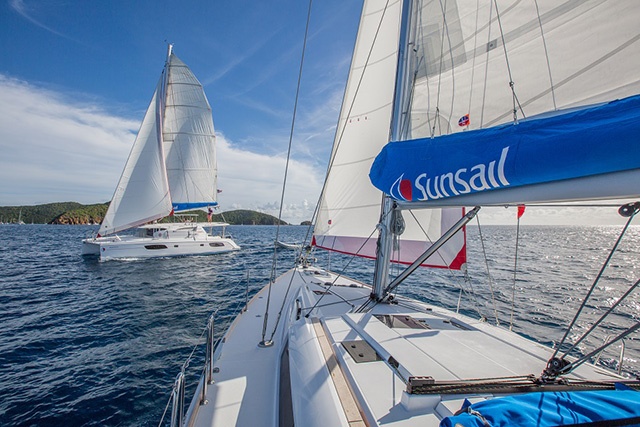 The morning after Day 7 disembark your yacht at the base in Wichkham's Cay II for a final debriefing conducted at 11 a.m. Thank you for exploring the British Virgin Islands and her wonderful rums with us. Have a safe journey home!
Our top yacht recommendation
The Brand New Sunsail 454 - 4 Cabin Catamaran

"Sunsail continues to challenge us to be at the forefront of yachting innovation."
— John Robertson, Of Robertson & Caine

"We sail in some of the world's most gorgeous destinations and now our guests will be able to view them from 360 degrees whether below or on deck."
— Scott Farquharson, General Manager of Sunsail
Learn more about the Sunsail 454
{C}{C}{C}{C}{C}{C}{C}{C}{C}